The Genderbread Person is a cute, approachable model for understanding the social construction of gender, based on the input of thousands of voices over several decades. Every version I (Sam Killermann) have made is yours to use however you'd like, having uncopyrighted all of my work here in 2013, a decision I've never regretted.
This page holds a bunch of different versions of the Genderbread Person I've made in a variety of file types — all in one place for easy use as a reference and resource — as well as some others I've been sent from around the web.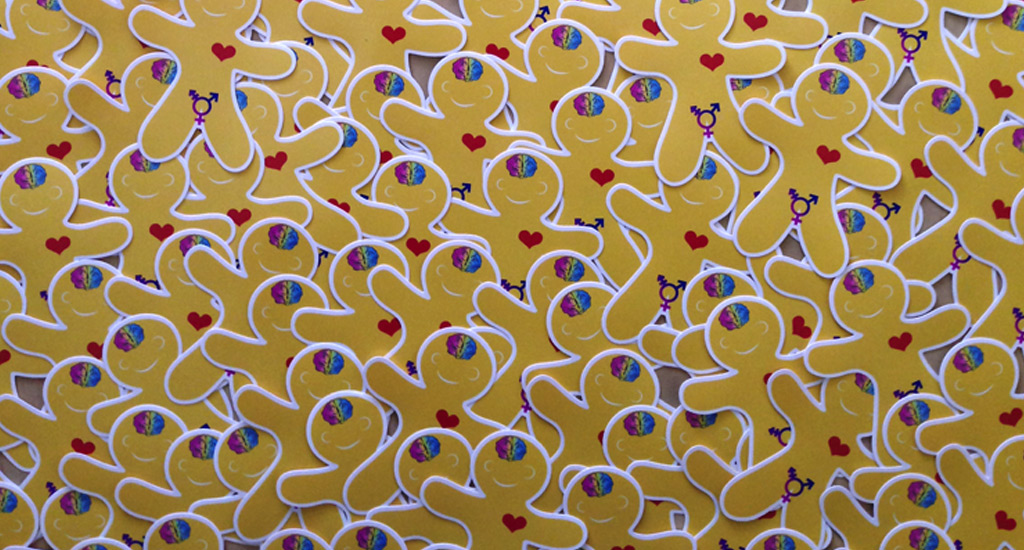 A Table of Contents for this Page
(because it's a long one, and links are nice)
Background
Usage Restrictions (spoilers: there are none)
Background
I published my first version of the Genderbread Person on this site in 2011 with the article Breaking through the Binary: Gender Explained Using Continuums. My second version, based on a ton of feedback I received after asking the internet to weigh in, went on to be downloaded hundreds of millions of times more than my first. I first published my third version with the announcement of my gender book back in early 2013, but recently added 3.3 to the site here. If you're curious to hear more about my personal backstory with the Genderbread Person, especially around the (un)copyright/dollars side, read this article I wrote in Fall 2013.
The idea behind the Genderbread goes back, in innumerable forms and fashions, for at least a couple decades. While some people inaccurately attribute me with "inventing it," and others misattribute it to other people in the 2000s, there have been generations of educators who have used the idea, contributed to it, and taught people using some form or fashion of it. When I published my first version, I said that I wanted to improve upon the versions that I'd seen, and I linked to one. I got flak that the version I linked to wasn't the "original," (it wasn't, because there are plenty of examples that go back before social media, so they were right), and people thought I was making fun of whoever made it (I wasn't, so they were wrong), so I have since stopped linking to any one version as a genesis. Instead, I generally saying that it's my spin on an idea that's been around for a long time. I didn't "invent" it; I popularized it, and have worked continuously to keep improving on it using community feedback and workshop testing/tweaking. In that way, it is very much a product of the creative commons, without a sole "inventor." (Unless you can trace it back to one person, before all that. In which case, please let me know).
Usage
(back to top) You're welcome to use any graphic I've made and published here in whatever ways you'd like, however you'd like, modified however you'd like, attributed however you'd like. For real. It's that simple. Read more about this on my uncopyright announcement, if you're curious.
Below you'll find a bunch of images, as well as the original Adobe Illustrator files I used to create them. Put them to use! That's why they're here.
Most of these are designed to be printed as posters on US Tabloid size paper (11″X17″). I made this decision because it allows for more room for detail, and many offices have the capacity to print Tabloid in-house. If you need the file in a different size or format, you're welcome to create it. That's one of the reasons I included the original AI files I used to make them.
My Genderbread Person v4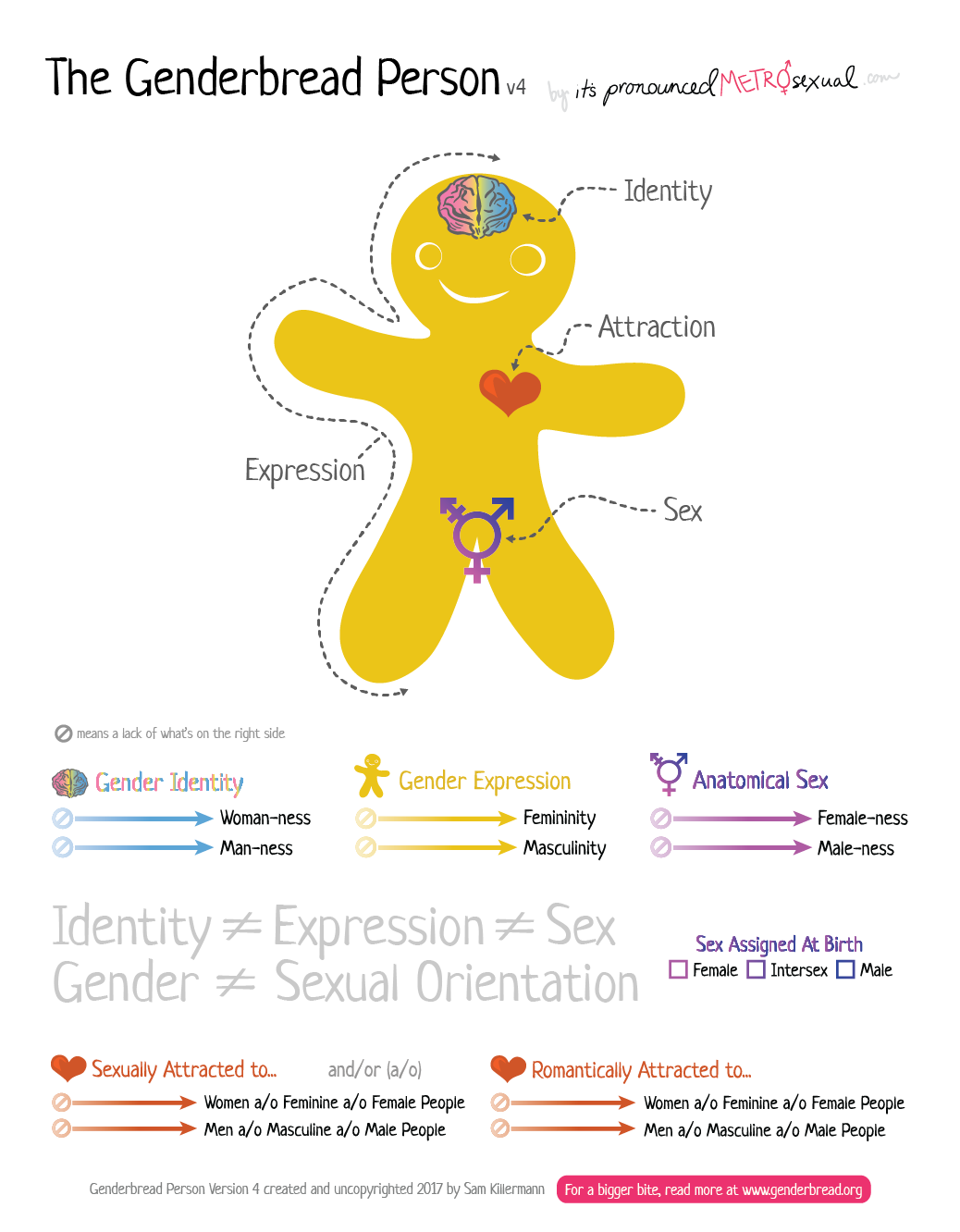 Here are a few GP4.0 downloads & links:
I strongly recommend folks use v4.0 instead of any other version I've made. It's far, far better than any v2, and — though it may seem more complicated at first glance — is a more honest and intuitive depiction of how we experience and embody gender than v1. And any aspects of v3.x you like can be easily swapped in.
My Genderbread Person v3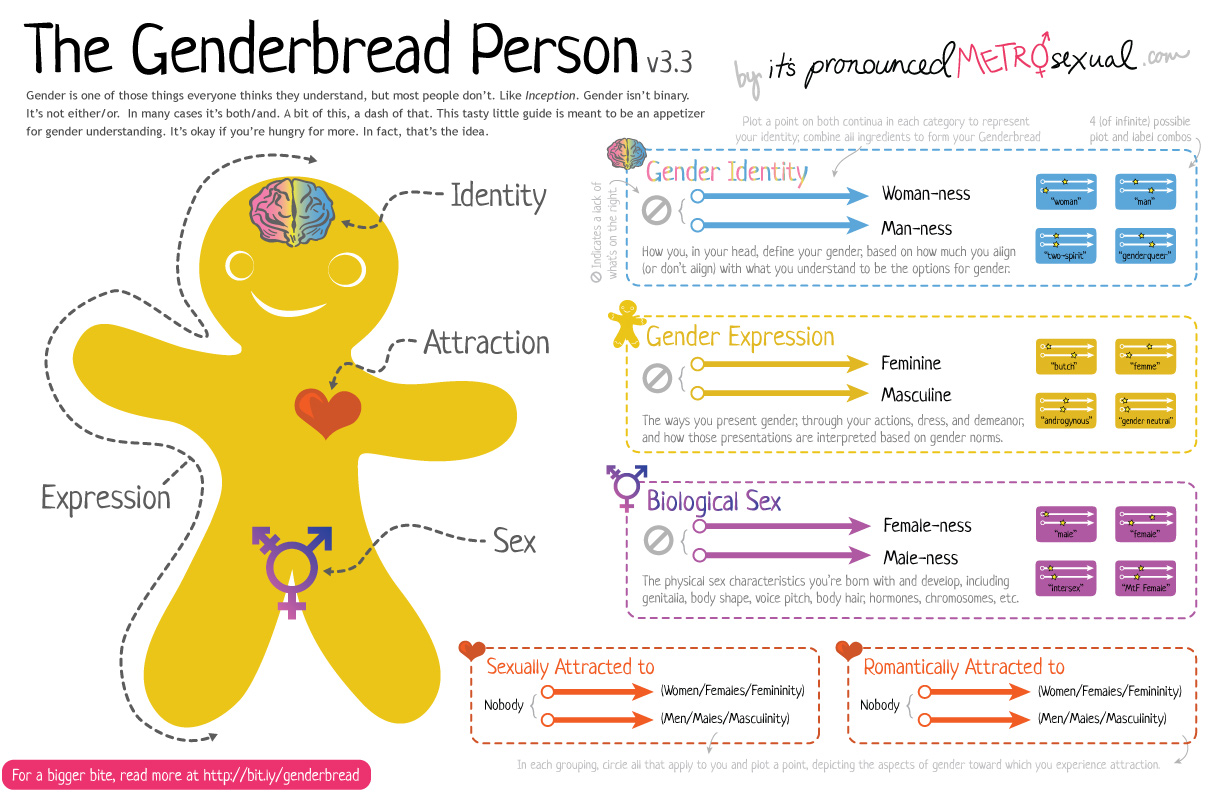 Here are a few GP3.3 downloads & links:
The Minimal Genderbread Version 3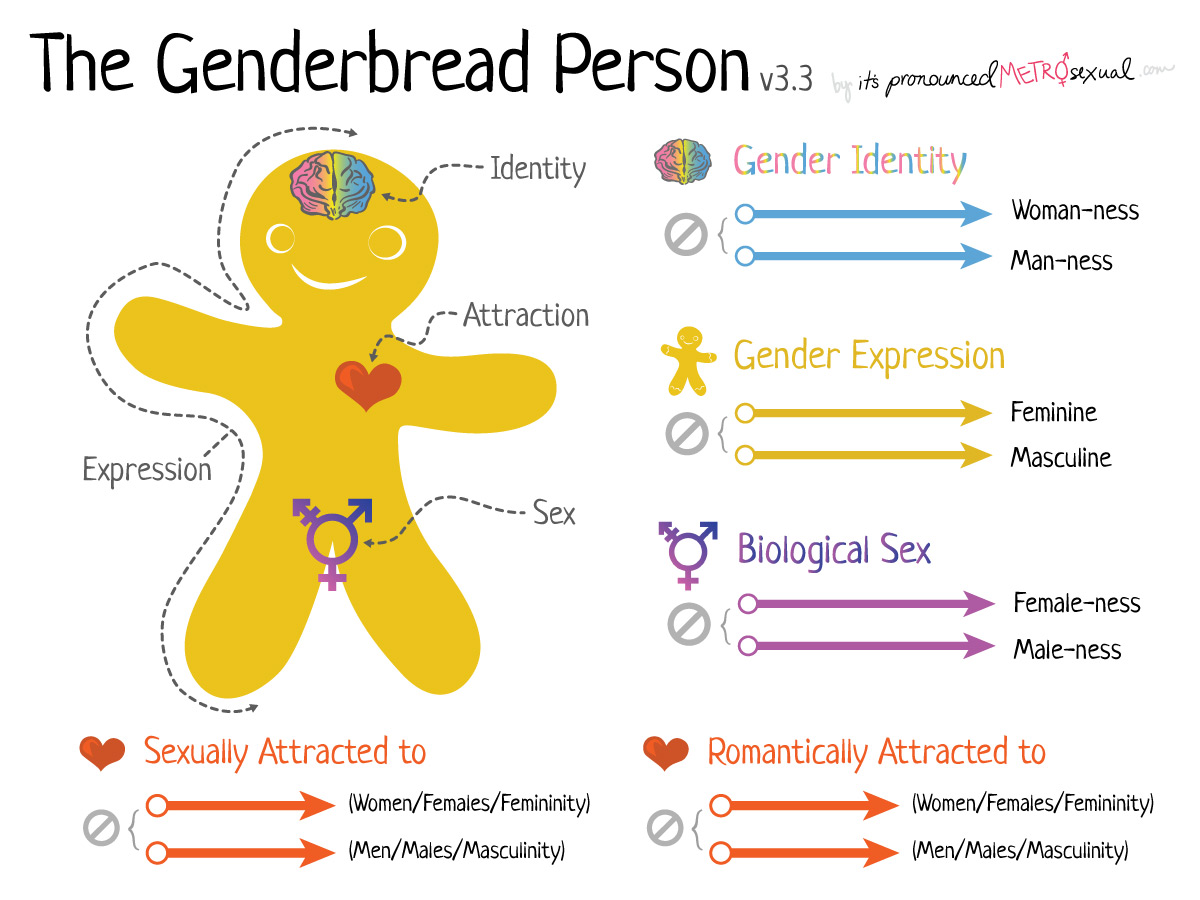 Translations of Genderbread Version 3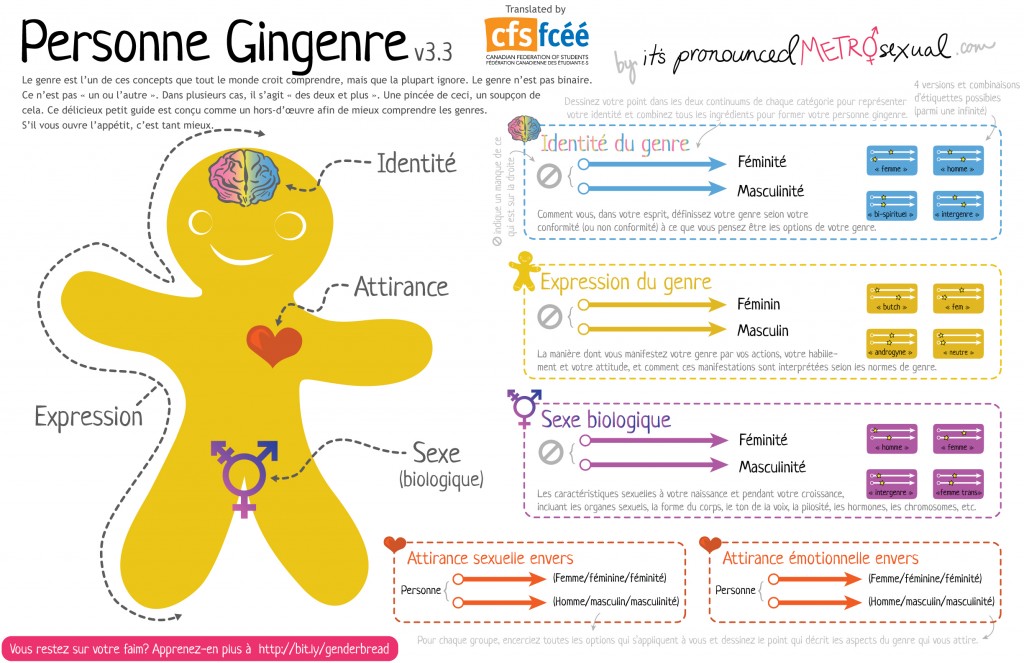 Older Subversion of Genderbread 3
My Genderbread Person v2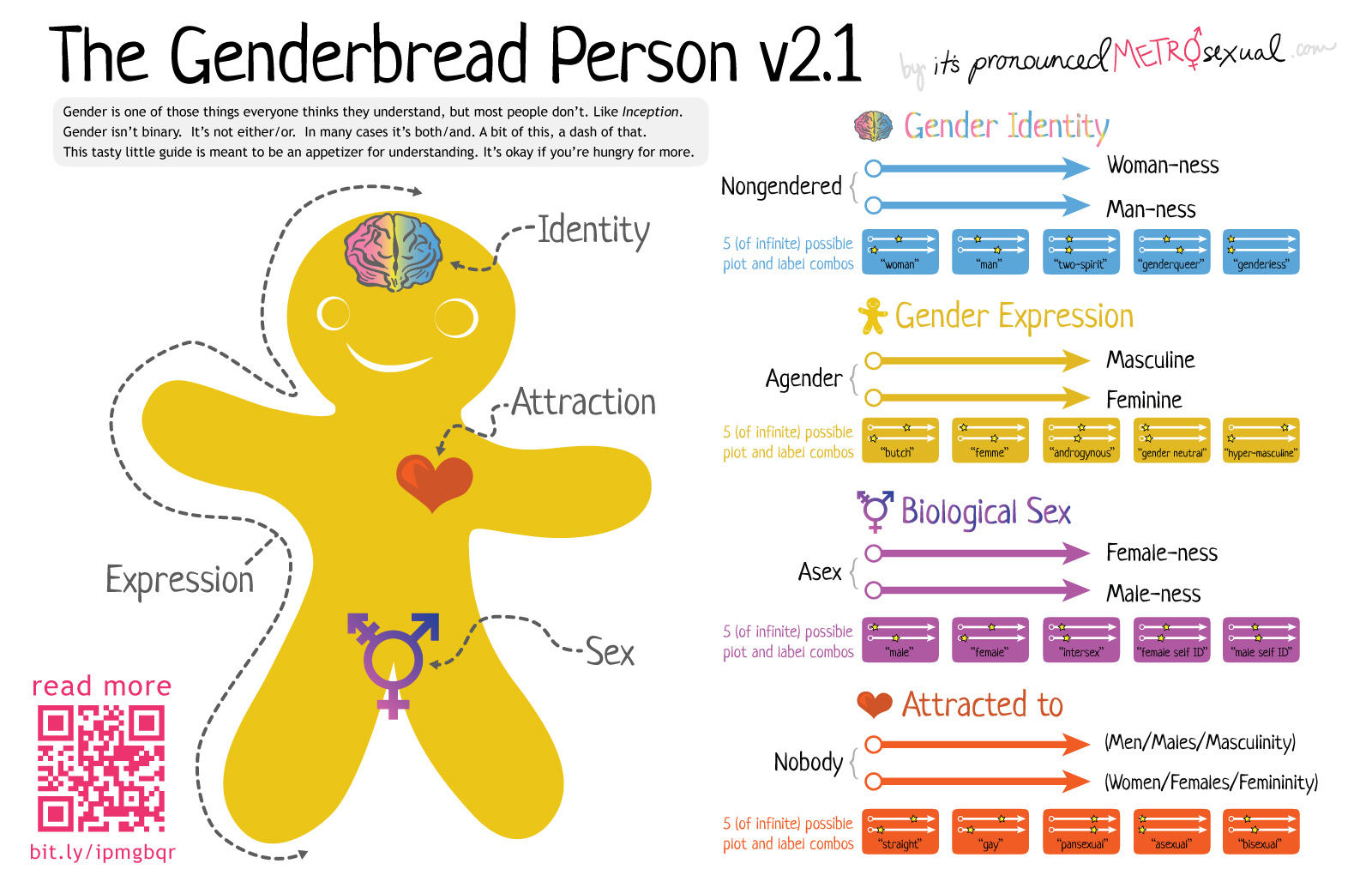 Here are a few GP2.1 downloads & links:
My Genderbread Person v1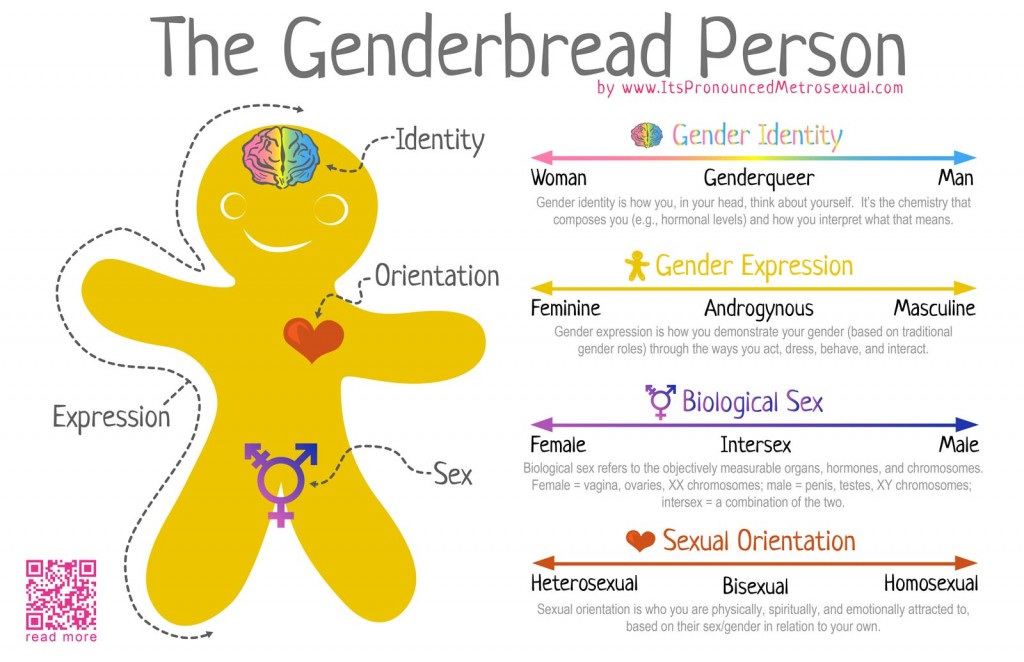 Here are a few GP1 downloads & links:
Genderbread Person Activities
A short list, but hopefully one that will grow. Below I'll post activities for teaching with the Genderbread Person that people share with me:
Other Folks' Genderbread People
(back to top) Throughout the years, I've seen tons of versions of Genderbread People. Folks have sent me email descriptions or photos of early iterations of the Genderbread Person from the 80s & 90s, Gender Gumbies, and more. Since I put forth the "-Ness" model of understanding gender with my second version of the Genderbread, with the popularity & reach of that model, I've seen hundreds of riffs and iterations/improvements. Below are just the few that folks have emailed to me, that I could find to include on this page.